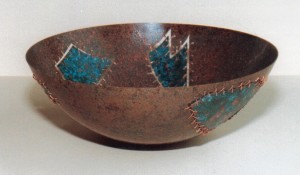 I have been involved in making art and design work right from being young (in age as well as name). I worked with my father, Jim Young, specialising in the design and production of three-dimensional artwork and sculpture for commercial and public premises; he was asked to make some very strange pieces at times and some of them were very large. It was interesting work to say the least.
From 1977 to 1994 (by way of a complete change) I was a nurse practicing within the National Health Service. Although this is not reflected in my art and design work, it continues to have a powerful influence on other aspects of my life. In 1994 I left nursing and began my degree studies in 3-Dimensional Design (Metalwork & Jewellery) at Sheffield Hallam University graduating in 1997. Since completing my degree course I have studied stained glass work at Sheffield College.
I set up my business Katharine S Boyd Artist-Designer-Metalsmith in September 1997. I design and produce my own work. Initially this was exclusively metalwork but now stained glass is the dominant part of my business. My work is very diverse and visitors to my studio have sometimes asked if all the pieces on show are mine, they are! I am continually seeking ways to develop my practice, especially through the combination of stained glass and fine metalwork. I am also very interested in the application of other techniques and materials that could add further scope to my designs, examples of this are mosaic, embroidery and chasing. For me one of the best parts of the design process is that each new piece I make can be the inspiration for yet more ideas.
No standing still.