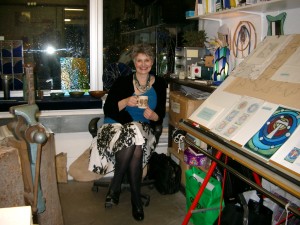 Present           
Special Visiting Lecturer to Sheffield Hallam University since 2013
Until summer 2017 I was a company director and part owner of a family business The AlbertRoss Salvage Emporium Ltd which specialised in the renovation and retail of original period cast iron fireplaces and architectural salvage/antiques. We have now closed the business.
1997 – Present   
Designer-maker & sole proprietor of Katharine S. Boyd Artist-Designer-Metalsmith specialising in stained glass & fine metalwork. My studio is now located in Yorkshire ArtSpace's Persistence Works in the heart of Sheffield's Cultural Industries Quarter. I am a regular participant in open studio events at Persistence Works.
From 1977 to 1994 I was a State Registered Nurse working within the National Health Service. For much of this time I was a practising senior nurse in the field of general and cardio-thoracic intensive care and coronary care where my responsibilities were both clinical and managerial.
Early Career
Prior to beginning my nursing career I worked for a number of years with my father in his business where we specialised in the design and production of three-dimensional artwork for commercial & public premises.
Education
2001-2003 Lay Ministry Training – Sheffield School of Ministry
1997-2000 Open College Network Course in Stained Glass Work – Sheffield College
1994-1997 BA (Hons) 3 Dimensional Design (Metalwork & Jewellery) – Sheffield Hallam University
1981 JBCNS 100 – Sheffield School of Nursing
1977-1980 SRN –  Sheffield School of Nursing
Personal
I was born in Sheffield in 1955. I am married and have two adult children & a granddaughter. In 2003 I became a licensed Anglican Lay Minister with both preaching and pastoral responsibilities. My main interests include current affairs & politics, reading, film, television and radio, making things, art & design and architecture. I am happy to discuss almost anything (even football) with almost anyone. I value friendship, kindness, compassion and integrity and a good sense of humour. Thankfully mine seldom lets me down. In 2017 I finally achieved a longtime ambition of learning to ride a motorbike. I'm still working on learning to dance!
Competitions
1995 – Worshipful Company of Spectacle Makers
Prototype design for children's spectacles – Finalist
1996 – Pewter Live 96
2nd Prize Winner for Sheffield Hallam University
Individual Sponsors Prize Winner for PolyGram Records
1996 – Beat It
Ruskin Gallery   Sheffield
(Featured in G Z magazine – Germany)
1997 – Goldsmiths Bequest
Winner at Sheffield Hallam University
Exhibitions
1997  – New Designes – Islington Business Centre London
1997 –  Passing Out – Manchester
1998 – Pewter Live 98 – Pewterers Hall London
1998 –  House Room – Ruskin Gallery – Sheffield
1999 – Solo Exhibition  – Clock Tower Gallery   Sheffield
2002 – Meeting In The Middle – Joint exhibition with Anne Mawdsley – Orchard Gallery Eyam
2002 – Now & Then – Sheffield Hallam University celebration of 10th Anniversary – Selected Graduates
Sponsored by Sheffield Assay Office – The Millennium Galleries Sheffield
 2003 – Interiors – Persistence Works Sheffield
Joint exhibition with designer-makers & artists of Yorkshire  Artspace
2011 – PW10 – Joint exhibition of work by selected artists, designers & makers celebrating the
10th anniversary of Yorkshire Artspace Society's Persistence Works
2018 – Art in the Home – Studio 2021 at Persistence Works Gallery Sheffield
2019 – Solo Stained Glass Exhibition at St Mary's Church Walkley Sheffield
2019 – Art in the Home – Studio 2021 at Kommune Sheffield