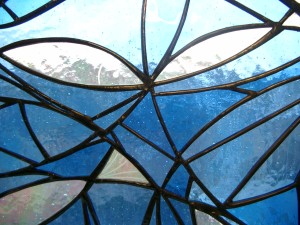 Studio 38, Persistence Works.
21, Brown Street,
Sheffield S1 2BS
Mobile 07979 291 892
E mail kath.s.boyd@btinternet.com
www.katharinesboyd.co.uk
Sheffield & The Cultural Industries Quarter 
Sheffield is my home city and I am delighted to have my studio located in Persistence Works, the award winning home of Yorkshire Artspace in the centre of the city's cultural industries quarter. Our near neighbours include the independent Showroom cinema, the Workstation and Electric Village, both home to many small independent businesses, Site Gallery, Butcher Works, S1 and Bloc studios, Red Tape Studios, The Leadmill, a venue for live music and several Sheffield Hallam University buildings & their Student's Union. This vibrant area is served by a number of excellent restaurants, cafes & bars and some proper traditional pubs. The Midland Railway Station, Transport Interchange and the ring road which connects the city centre to the A57 & M1 motorway are close by. All this is overlooked by Urban Splash's wonderful redevelopment of Park Hill. A real hive of activity.
From Then to Now
Sheffield has a proud industrial history of steel and cutlery making and is also famous for the invention of Sheffield plate, a silver & copper sandwich used in the silversmithing industry. Many examples of this impressive work can be seen in our numerous museums and galleries. There is a large exhibition of both historic and contemporary metalwork in the Millennium Gallery and on a biennial basis Sheffield hosts its own metalworking festival "Galvanize" showcasing the talents of current designers & makers at various venues throughout the city. This is next due to take place in 2015 and will be well worth a visit. Other events to look out for include Docfest, Sheffield Design Week, Off the Shelf, Festival of the Mind, Tramlines and of course the RAFTAS at the Daft Craft Raft Race.  As I said, no standing still.