The "Gloria" Beach Hut.
Originally commissioned by Valerie Smith for her friend Gloria's 50th birthday and named after her.
Have you ever thought that you would like to commission a piece of work for yourself or as a special gift but thought the process might be too complicated or costly? Well don't be put off because it doesn't have to be. I have undertaken commissions from small personalised fun items for birthday gifts to major pieces for the home, from a mini beach hut to a series of stained glass windows. A simple design for a small piece can cost as little as £40.00. If you have a project in mind please feel free to discuss your idea with me. I look forward to working with you.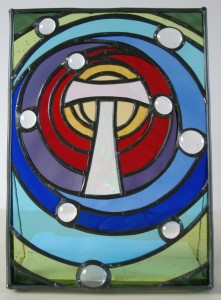 "Tau Cross"
Commissioned by the congregation of St Mary's Walkley for The Revd. Melanie Fitzgerald
There is no charge for initial design work. Once the design is agreed a deposit of 25-50% of the estimed value of the piece is required with the balance being payable on completion of the work.
Please note I retain copyright on all my designs, they may not be reproduced in any form without permission.